Today, You can Afford your Dream Wedding.
It holds a historic past with grace and elegance.
Celebrate your occasion in our 1892 original Affordable Dream Wedding Chapel and banquet facility for events of any kind. Have your weddings, corporate events, funerals, church, conferences, and community functions at our low cost and convenient location. As you walk into our main entrance, as seen below, you will be treated to a high level of care that you and your party deserve when celebrating life.
Our facility is nestled in the heart of the Willamette Valley half way between Portland and Salem. When you visit us, you can see and feel the beauty of the surrounding area.
Celebrate your family's life in our 1892 original Hubbard Chapel and banquet facility. As you walk into our main entrance, you will be treated to a high level of care that you and your party deserves when celebrating life.
The large spacious chapel to is designed to recapture its historic pioneer church beginnings. The gleaming wood floors give it a classic charm of yesteryear, and the high vaulted wooden panel ceilings, refurbished very large 120 year old white cedar wooden dovetail centerpiece (that was hidden inside of a wall for a generation), many ornate chandeliers, craftsman re-utilized wainscoting combined with rare wood paneling coordinated with crafted refurbished baseboards make it a must see destination.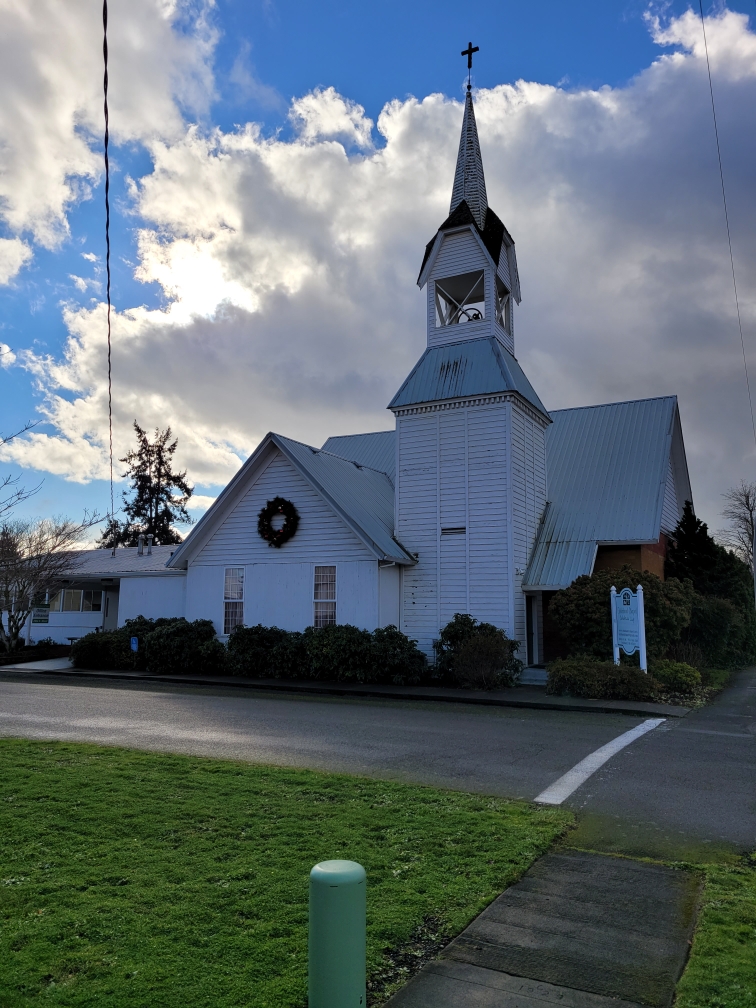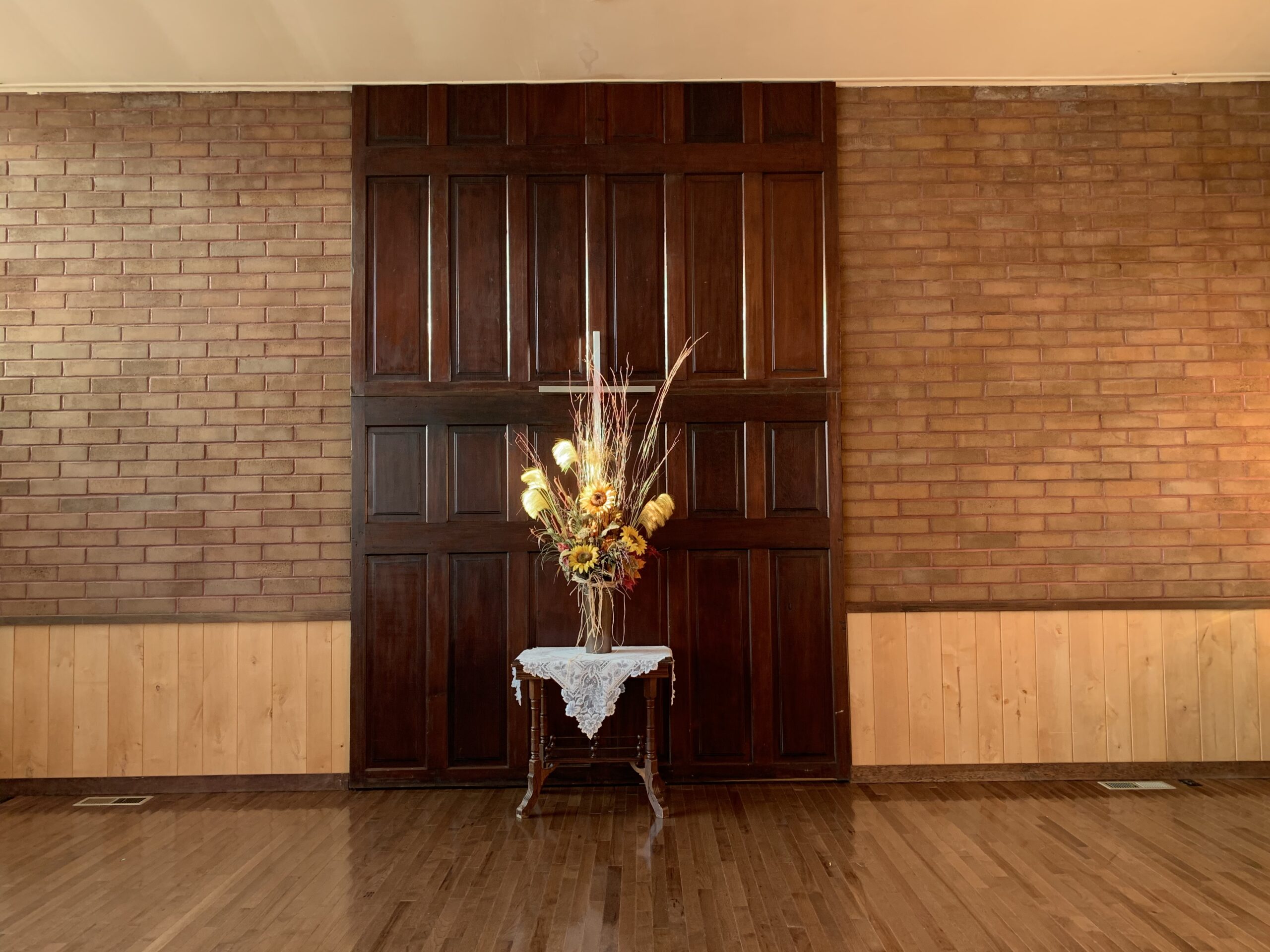 We select natural organic colors in our celebration of life chapel, knowing that your loved one would be the true center of attention. Notice the warm sunlight reflecting thought the many stained glass windows on the hickory hardwood floor walkway.
Glittering light originated from the many bountiful stained glass windows, giving the celebration of life a level of illuminated warmth with an distinctive kaleidoscope appearance on the many crafted organic woods such as Oregon coast white cedar, local handcrafted birch, Willamette Valley Douglas fir, local hemlock, with hickory harden floors, along with foundation material of century old regional redwood and brick, add in solid oak church pews all making this a chapel that greatly enhanced the pioneer warmth and history for a wedding especially knowing that whenever possibly the all building materials were recycled.

New Outdoor Wedding Arbor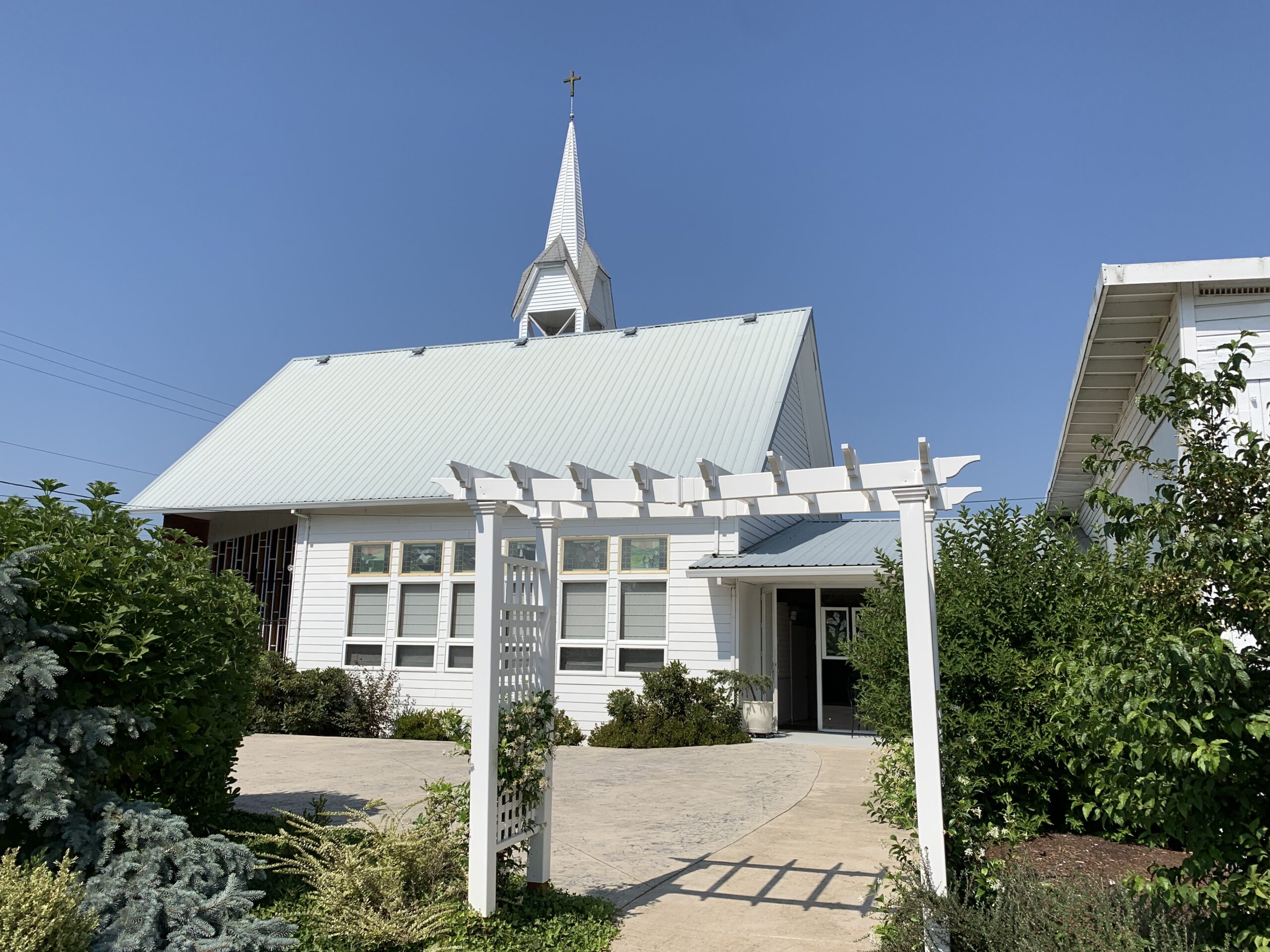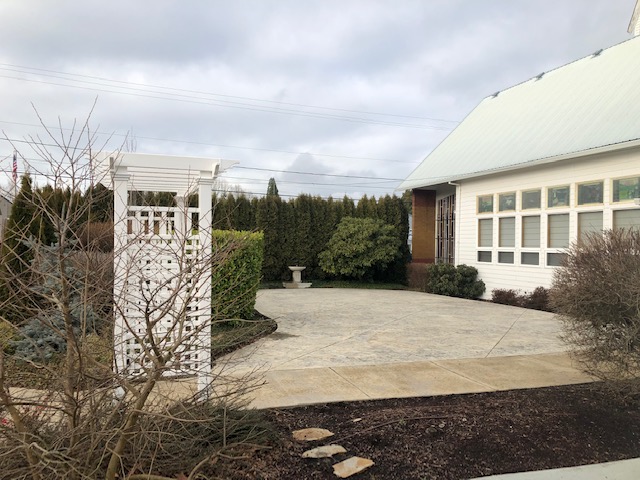 On YOUR special day, ring the Bell at Affordable Dream Weddings at Hubbard Chapel
A 127 year old bell that has been rung numerous times since 1892, announces to the community and their visitors that a special occasion has occurred!
When you first hear the bell, it allows you to reminisce on stories you have heard in the past, making your Dream a reality. Bells are often rung at church after the wedding vows by the newlyweds or a special guest. The symbol of the "wedding bells" can be dated back to ancient Celtic and Irish history. The loud and powerful ringing of the bells would bless newlyweds.
Good news could also be passed long distances, the bells let everyone know that a new couple were officially married. As time passes, the sound of the bell reminds couples, wherever they may be, that they were blessed on their special day.
"The Passing Bell is a old tradition to keep the ever-present evil spirits in the soul from passing into the next world, and asked for your prayers, also it believed that the bells ringing cleanses the listener from closely lurking evils spirits".
Wedding Venue With A Comfortable & Warm Environment
We want you to be comfortable and secure. We invite you to just come by for a cup and say "hi" and ask any questions you might have.
CHAPEL FEATURES:
Critically Acclaimed Restoration
Outdoor Courtyard
You could host an event outside in our courtyard, or have part of your party outdoors.
Food and Drink
Affordable Dream Wedding Chapel, you may bring your own food or catering, along with your choice of vendors, or choose from our preferred vendor list. Alcohol is allowed.
Clean Professional Kitchen and Bathrooms
OTHERS OPTIONAL ONSITE ITEMS:

Original Sweet Sounding Church Bell
Full Air Conditioning
Brides Changing Room
Groom Changing Room
Religious Cross
Pews
Sound System
Tables and Chairs
Bar
Plates and Silverware
Podium
Gift/Guest Book Table
Greeting area
Kitchen with Stove and Refrigerator
and much more…
Hubbard Chapel - Affordable Dream Wedding is committed to making your special event a lasting and cherished memory.